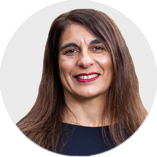 Nikki Panagopoulos
Fund Manager
Nikki joined Australian Unity in August 2004 and is currently Fund Manager, of the Australian Unity Office Fund, listed on the ASX as AOF. Nikki is responsible for the strategic growth and commercial management, including investor relations.
Prior to the AOF role, Nikki was Fund Manager for the Australian Unity Diversified Property Fund (DPF), a position held since 2010 implementing strategic growth and repositioning strategies, resulting in DPF's outperformance of the benchmark and peers over the 10-year period.
Nikki has more than 25 years' experience in unlisted and listed property markets with a key focus on investor relations, setting and implementing strategy, project and development management as well as people leadership. Prior to joining Australian Unity, Nikki was an Investment Analyst for Deutsche Bank's $1.5 billion listed Deutsche Diversified Trust and also spent 12 years in Property Funds Management at AXA (formerly National Mutual).