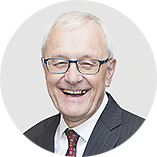 (William) Peter Day
Independent Non-Executive Director and Chairman, Member of the Fund's Audit & Risk Committee
Mr Day was appointed as a director and Chairman in October 2015.
Mr Day's professional career includes senior executive roles in finance and general management in mining, manufacturing, food and financial services industries at companies including Bonlac Foods, Rio Tinto, CRA and Comalco. He was Chief Financial Officer for Amcor for seven years until 2007.
Mr Day is currently a non-executive director of Ansell, and a non-executive director and Chairman of Alumina. He is a former non-executive director of Federation Centres (2009-2014), Orbital Corporation (Chairman 2007–2014), Boart Longyear (2014 - 2017), SAI Global (2008 – 2016), former Chairman of the Australian Accounting Standards Board and was Deputy Chairman of the Australian Securities & Investments Commission (ASIC), and has been a member of the Takeovers Panel.
Mr Day's educational background includes a Bachelor of Laws LLB (Hons) from Queen Victoria University in Manchester, England, and a Master of Administration from Monash University in Melbourne. He is a Chartered Accountant (FCA), a Fellow of CPA Australia (FCPA) and FAICD.